It Pays to be a Boyer's Customer!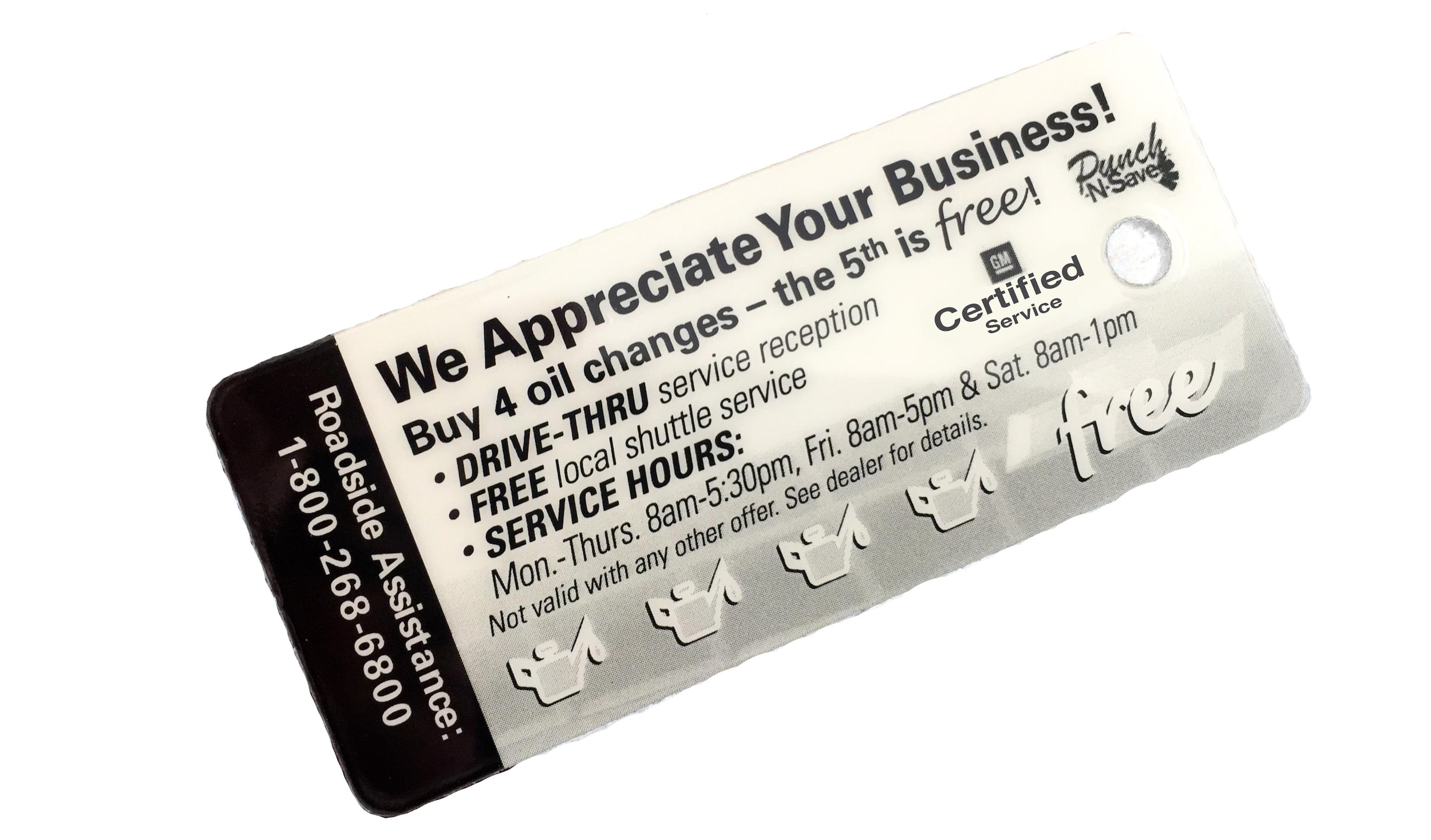 At Michael Boyer Chevrolet Cadillac Buick GMC, we reward our loyal customers with FREE Oil Changes!
Every time you have a Lube, Oil & Filter Service done at Michael Boyer's in Pickering, you are one step closer to a FREE Oil Change!
Oil Changes are one of the few vehicle services that you must have done on a regular basis. Whether you commute long distances to work, enjoy family road trips or only use your vehicle to putter around Durham Region and the GTA, you will need to have your oil changed about every 6 months. So why not have your oil changes work for you?!
At Michael Boyer Chevrolet Cadillac Buick GMC, every 5th Oil Change is FREE!
Keep track of your Oil Change Appointments at Boyer's with our handy Key Tag Punch Card. The Key Tags are available at all 7 Boyer locations free of charge. We'll make sure to punch your card after every Oil Change, and complete a full Lube, Oil & Filter change for you during your 5th visit, free of charge. No questions asked!
This offer is valid on all types of Oil Changes! If your vehicle requires DEXOS, your FREE Oil Change will be a DEXOS Oil Change. The type of FREE Oil Change you receive will depend on your previous 4 Oil Changes.
FAQ's

Q:
I've Lost my Boyer Oil Change Key Tag Punch Card - What Do I Do?
A:
Don't worry! Your key tag is an easy way for you and your Service Advisor to keep track of your appointments. But if it ever gets lost or damaged, we have your Service History in our system to reference. No Key Tag = No Problem.
You may run into an issue if you share your key tag with a member of your family. If you and a loved one living under the same roof are sharing the tag, make sure to tell your service Advisor so they can note that on your file. \


Q: Can I Use My Past Oil Change Appointments at Boyer's Towards This Offer? I Never Received a Punch Card!A:
If you've had Oil Changes at Boyer's before, but never took advantage of the Every 5th One FREE Offer, simply speak with your Service Advisor and they will trace back your Service History with us! Who knows, maybe you have a FREE Oil Change waiting for you right now!
Q: Is the FREE Oil Change offer transferable between Boyer Auto Group Dealerships? A:
Due to our geographical footprint, we are very rarely faced with this question. Officially, our Dealerships do not honor full Key Tags from our other locations. However, if you know you will be frequenting more than one Boyer location and would like to have your Oil Changes transferable between locations, speak with the Service Manager at your home location. We are always open to working with our loyal customers are honoring your loyalty on both the Dealership and Group level.